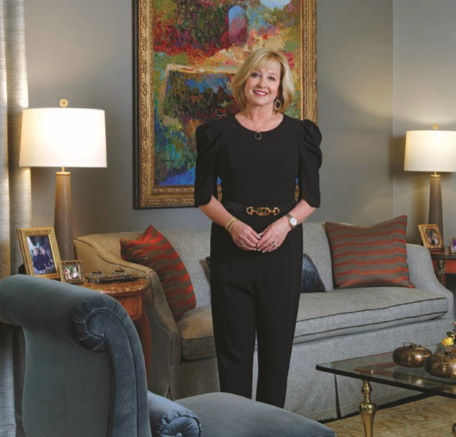 Designer Sharon Kleinman
brings clients' dreams to reality through the home design business she founded more than twenty years ago. Over the past several years, Sharon's interior design work for her clients as well as her own home, have been featured in
Washington Home and Design Magazine
, Spectacular Homes of Greater Washington, D.C.,
Home and Design Portfolio of Top Designers
, and numerous articles in the
Potomac Almanac
. Sharon participated in the 2011 Design Showhouse. Most recently, Sharon was recognized as an "Icon of Design" in the 20th anniversary edition of
Washington Home and Design Magazine
.
In projects ranging from kitchen redesigns to whole house makeovers to full designs for homes under construction, Sharon brings excitement, passion, expertise and an exacting attention-to-detail to the design process. Above all, her desire is for her clients to put their own personal stamp on their homes. "Each interior should reflect the client's style, not mine," she says.
"I want my clients to be able to enter any room in their home and feel good about it, " Sharon says. "I encourage my clients to think carefully about how they are going to live in each space. I work to incorporate sentimental items, hobbies, personal collections or artwork into an overall design scheme."
According to Sharon, thorough planning is the key to a well-designed room. She begins the design process by asking her clients to list what they want to do in a given room: watch television, read a book, listen to music, or play games, for example. Then she develops options to incorporate her clients' wish list. Once they agree on a plan, she begins selecting furniture in line with her clients' tastes.
As Sharon works with her clients, the plans remain fluid. "I truly believe the best rooms evolve over time," Sharon says. "Adhering to this philosophy, I recommend that my clients begin by purchasing the larger main pieces of furniture first. This allows us to build upon the basics, adding unique or personal accessories and smaller pieces of furniture along the way."
Window treatments and wall finishes are integral to a well-designed room, so Sharon spends careful time choosing the perfect fabrics and paint colors for walls and windows. She works with experienced craftspeople to provide the attention to detail and quality she requires for beautiful window treatments and faux wall finishes.
Finally, it is time to accessorize. Sharon frequents antique shops, retail stores and art galleries looking for just the right items which will reflect the clients' aesthetics and puts the finishing touches on every interior she helps create.
"By channeling design creativity into a process, the end result is a unique interior where the beauty of the room is in the whole, and not in a single piece," Sharon says. "The most beautiful interiors are appreciated in their entirety. No one piece takes center stage or overpowers the room as a whole."